Running Essential Showdown: Comparing Popular Hydration and Storage Solutions
For runners, choosing the right gear is crucial for a comfortable and effective run. Hydration packs and belts are essential for staying hydrated and carrying necessary items while hitting the trails or pavement. But with so many options on the market, it can be challenging to select the one that's just right for your running style and needs. In this comprehensive comparison, we'll dive into various products, dissecting their features, pros, cons, and unique characteristics. From minimalistic belts to high-capacity backpacks, we've got you covered. Whether you're prepping for a marathon, a leisurely jog, or an intense trail run, understanding the trade-offs of each option will help you make an educated choice that enhances your running experience.
Key Considerations for Running Packs and Belts
When embarking on a run, whether it's through the urban sprawl or the tranquility of nature trails, having the right gear can be the difference between a good run and a great one. Running packs and belts are essential accessories for runners looking to carry personal items and stay hydrated but selecting the right one can be daunting with so many options on the market. There are several key factors to consider when choosing a hydration pack or running belt.
Firstly, consider the capacity you need. For light packers or those going on short runs, minimalistic options such as the Flip Belt may suffice, offering just enough space for small personal items like keys or a phone, and staying secure around your waist. However, they lack hydration capability. For those requiring a small quantity of water, with similar lightweight advantages, a hydration vest or a Rad Pack 2L offering up to 1 liter of fluid and additional pockets for essentials might be more suitable.
For runners who are after a bit more storage – perhaps for longer runs, carrying extra layers, or even a quick coffee outing – the middle range solutions like Salomon's 4L or Harrier's Curve Bar 5L pack could be the perfect fit. With ample pockets and customizable features, they provide greater flexibility, although they run the risk of feeling bulkier with the added content.
Activities such as ultras or extreme races demand much more from both the runner and their gear. Large capacity options like the Osprey Duro 15, North Face 12L, or the Inov-8 12L pack cater to those needing substantial room for equipment, nourishment, and specialized features like pole attachments – ensuring you can carry what you need for the long haul. These packs, while highly functional, might be excessive for less demanding runs and casual use.
Other considerations include fit and comfort, which can vary greatly between brands and models. Hydration vests offer adjustable straps and come in different fits for both unisex and women-specific designs, ensuring comfort over long distances. Meanwhile, waist packs like the Rad Pack 2L offer simplicity and comfort, keeping shoulders free and hydration easily accessible. Remember that for hydration vests and backpacks, you might need to purchase water vessels separately, and getting the right fit might require some trial and error.
Lastly, don't forget about special features such as reflective elements for safety, gender-specific designs like the Osprey Katari/Kitsuma series, and added organization compartments for tools and tech that might come in handy for more specialized activities like biking or commuting. The Stolt Running Set, for example, caters specifically to the needs of running commuters, with compartments for laptops and business attire.
In summary, when selecting the right running pack or belt, balance your storage and hydration needs against the pack's weight and bulk. Consider the length and conditions of your runs, whether you require quick access to your gear, or specialized compartments, and the overall comfort the pack provides. Opt for designs that match your activities and remember that sometimes, trying on several styles and brands may be necessary to find your ideal pack.
Compact Solutions for Light Packing: Flip Belt vs. Waste Pack
For runners who prefer to travel light, balancing the need for essentials with minimal bulk is an art. When embarking on shorter runs where freedom of movement is key and only basic items like your keys, a phone, and perhaps a small snack are necessary, a compact carrying solution is ideal. Narrowing down the choices to the Flip Belt and the Waste Pack, let's delve into what makes these choices stand out for light packing options.
The Flip Belt is the epitome of a minimalist's dream. Designed like a belt, it sits snug around your waist, providing a secure fit that reduces bounce and shift as you run. The storage is perfectly sized for small personal items, making it a superb choice for your short jaunt through the neighborhood or park. One of the standout attributes of the Flip Belt is its compactness that makes you almost forget you're wearing it. However, it trades off storage space for its sleek design, offering no solution for carrying water, which might be an issue for runners who prefer to have hydration on hand, even for shorter distances.
On the flip side, we have the Waste Pack, which offers a bit more versatility when it comes to hydration. Designed to be worn around the waist as well, the Waste Pack accommodates up to a 500 ml water bottle or two smaller ones, ensuring that you stay hydrated without needing a hand-held bottle. Despite its accessible hydration feature, it shares a common drawback with the Flip Belt—limited carrying capacity. Moreover, should you choose to max out the hydration capacity, it could become uncomfortable over longer distances or higher paces.
In conclusion, if you're a runner who values extreme minimalism and doesn't mind leaving the water bottle at home or stashing it along your route, the Flip Belt might just be your go-to accessory. But if you can't shake the need for sips along your stride and you're willing to forgo some comfort for convenience, the Waste Pack offers a simple hydration solution without the need for more elaborate gear. Your final choice will largely depend on personal comfort preference, the level of hydration needed, and the specifics of the items you wish to carry.
Optimal Hydration on the Go: Hydration Vest vs. Rad Pack 2L
Staying hydrated while running is crucial, and modern gear designed for runners makes it easier than ever to carry water alongside the essentials. In this section, we'll compare the Hydration Vest with the Rad Pack 2L, assessing their features to help you decide which hydration solution might suit your running needs better.
Starting with the Rad Pack 2L, it boasts a 2-liter carrying capacity with the added convenience of 1 liter of hydration through two 500ml flasks. This makes it an excellent choice for short to medium-length runs. What sets this pack apart is its lightweight design and dedicated space for a light waterproof, phone, and keys. It's perfect for runners who prioritize carrying water alongside a few small necessities. On the downside, the Rad Pack 2L doesn't offer much by way of additional storage, so if you're looking to carry more than the basics, you might find it limiting.
Meanwhile, the Hydration Vest is built with long-distance runners in mind, offering adjustable capacity options and diverse storage solutions. Its capability to hold a minimum of 500ml to 1000ml of liquid, with options to expand up to a 20-liter storage volume, caters to both basic and extensive kit needs. Moreover, the vest's customizable hydration configurations—selecting between a bladder or flasks—boost its usability. While the Hydration Vest can accommodate various items through specialized pockets, one must note that it might not come with water vessels, and finding the right fit can be tricky without a physical fitting.
In conclusion, the Rad Pack 2L and the Hydration Vest cater to different types of runners. For those heading out on shorter excursions, valuing simplicity and convenience, the Rad Pack 2L is a fantastic minimalistic choice. However, if you're venturing on longer trails and require more storage and hydration capacity, the Hydration Vest, with its customizable and feature-rich design, may be the more appropriate option. Ultimately, your choice should align with your running distance, how much gear you need to take along, and the level of hydration you require.
When Storage Meets Convenience: Salomon 4L vs. Harrier Curve Bar 5L
Storage and convenience are essential factors for runners considering hydration packs. This section delves into the comparison between the Salomon 4L Hydration Pack and the Harrier Curve Bar 5L, to help runners decide which pack may better suit their needs.
The Salomon 4L Hydration Pack is an ideal choice for those who seek a balance between capacity and accessibility for longer runs, park runs, or casual outings like coffee stops. With a 4-liter capacity, this pack offers more storage space than minimalist belts or smaller vests. Runners can carry extra layers, gels, and waterproof items without feeling like their mobility is compromised. The large front pockets are easily accessible, allowing runners to grab nutrition or personal items on the fly. However, it is important to note that the pack's larger storage capabilities may make it bulkier than its smaller counterparts, potentially affecting running form or comfort during extended usage.
On the other hand, the Harrier Curve Bar 5L appeals to those who prioritize ample storage and customization. Its 5-liter capacity makes it slightly larger than the Salomon 4L, providing extra room for cold weather gear and additional accessories required for longer runs. The customizable pockets offer flexibility for organizing items to suit individual preferences, which can be particularly beneficial during longer or more complex outings. While the Curve Bar 5L enables runners to carry more, it is important to consider that it may become bulkier, particularly when loaded with multiple layers or heavy items, which could impact comfort and running dynamics.
In choosing between the Salomon 4L and the Harrier Curve Bar 5L, runners should consider the trade-offs between storage capacity, accessibility, and potential bulkiness. If the primary concern is the ability to carry a moderate amount of extra items with easy access, the Salomon 4L may be the better option. However, for runners tackling colder climates or those who desire more space and don't mind a potentially bulkier profile, the Harrier Curve Bar 5L could provide the necessary features. Whatever the choice, prioritizing fit, comfort, and the specific needs of your running adventures is paramount.
The Long Haul: Large Capacity Options
For runners embarking on extended distances where preparation is key, finding the right balance between storage, hydration, and comfort becomes critical. Let's dive into the world of high-capacity running packs designed for those who venture on longer trails or need to carry more gear.
Starting with the Salomon 4L Hydration Pack, we have a solution that meets the needs of runners tackling longer routes, where additional hydration and storage for essentials like extra layers and nutrition are non-negotiable. With a capacity of four liters and large front pockets, runners have easy access to their necessities. A downside to consider is that this option may feel bulkier than smaller models.
When temperatures drop and layering becomes essential, the Harrier Curve Bar 5L steps in to offer a slightly larger capacity of five liters and the capability to customize pocket placement. This pack is ideal for those who want to adapt their pack to their needs, especially for cold weather running. However, the potential for bulkiness is a trade-off that needs thought when deciding on your pack of choice.
For true endurance enthusiasts, the Osprey Duro 15 offers a massive 15-liter capacity. With this larger size, runners can carry all the mandatory gear for longer races and organize smaller items, such as electronic devices and nutritional supplements, in various pockets. This pack stands out for those who seek an organized system. The downside? It may be overkill for casual runners or shorter distances.
The North Face 12L Hydration Pack and the Inov-8 12L Pack both offer similar capacities of twelve liters but cater to different aspects of the endurance spectrum. The North Face pack prioritizes carrying larger amounts of gear and includes thoughtful details for ultra-racers, like pole attachments. On the flip side, it might be too specialized for less demanding races. Meanwhile, the Inov-8's modular design offers flexibility and breathability for varying conditions, making it a choice for those who face day-to-night transitions or diverse climate conditions on their runs. Complicated features, however, may deter some runners.
Finally, for those conscious of their spending without wanting to compromise on functionality, the Evadict Range from Decathlon presents a tempting budget-friendly package. While it doesn't boast the most advanced technology, it offers ample storage and useful features like hidden pockets and included whistle, representing functionality and value.
Finding the best pack for 'The Long Haul' involves weighing the pros and cons of each option. Be it the capacity you need, the routes you explore, or the conditions you face, there's a large-capacity running pack out there tailored to your requirements. By considering the trade-offs between storage, comfort, and specialized features, you can hone in on the product that will best support your long-distance endeavors.
For the Urban Runner: Stolt Running Set Review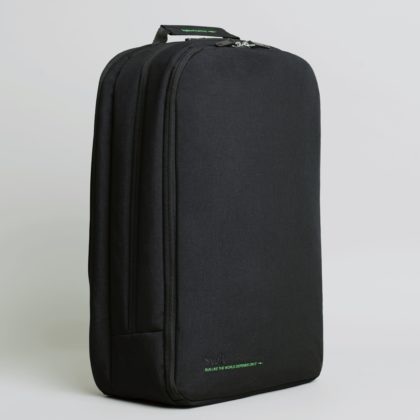 The Stolt Running Set is a game-changer for urban runners who need to carry their laptops and business attire while commuting. This innovative product combines the functionality of a running pack with the convenience of a laptop compartment and a hard shell box for clothes. The design is specifically tailored for commuters, making it the perfect choice for those who need to transition seamlessly from work to their running routine. One of the standout features of the Stolt Running Set is its laptop compartment. This compartment is spacious enough to accommodate laptops up to 15 inches, providing ample protection for your valuable electronics during your run. The hard shell box for clothes is another impressive feature of this product. It is designed to keep your business attire wrinkle-free and protected, ensuring that you arrive at your destination looking sharp and professional. The Stolt Running Set is also incredibly secure. The pack is equipped with multiple pockets and compartments, allowing you to store your valuables safely and securely. This feature is particularly important for urban runners who need to navigate busy streets and crowded areas. One of the downsides of the Stolt Running Set is its limited hydration options. While it does have a small hydration bladder, it may not be sufficient for longer runs. However, this is a minor drawback considering the other benefits of this product. Overall, the Stolt Running Set is an excellent choice for urban runners who need to carry their laptops and business attire while commuting. Its laptop compartment, hard shell box for clothes, and secure design make it a standout product in the running pack market. If you're looking for a versatile and functional running pack that can handle all your commuting needs, the Stolt Running Set is definitely worth considering.
Pros
Ergonomic design tailored for runners, ensuring comfortable wear during long runs.
Lightweight and breathable materials keep the runner cool and reduce sweat build-up.
Comes with convenient storage solutions like pockets and compartments for essential items.
Reflective elements increase visibility during early morning or nighttime runs for safety.
High quality construction and materials contribute to durability and longevity.
Versatile enough to be used for a range of athletic activities beyond just running.
Cons
May be on the pricier side compared to other running gear options.
Limited color and style options which might not appeal to all users.
Sizing might not accommodate all body types, potentially requiring a thorough check before purchase.
Additional features may add bulk, which could be a downside for runners who prefer minimalistic gear.
Cycle-Friendly Hydration: Osprey Raptor/Raven Series and Camelback Mountain Bike Line
When cycling, a hydration system that matches the dynamic demands of the trail and the need for quick access to tools and essentials is crucial. In this regard, the Osprey Raptor/Raven series and Camelback Mountain Bike Line stand out as specifically designed solutions for bikers. Let's delve into the features and benefits of each product to help you decide which might be the best cycling companion for your off-road adventures.
The Osprey Raptor/Raven series offers 14 and 10-liter capacities with a gender-specific design for an ergonomic fit. The Men's Raptor and Women's Raven feature the AirScape back panel for excellent ventilation and a 2.5-liter hydration reservoir for ample water supply. Additionally, the bike-specific wing-shaped harness, magnetic bite valve for easy sipping, and Lid-Lock helmet attachment enhance comfort and convenience during rides. With designated pockets for tools and a scratch-free zone for delicate items, these packs score high on organization. Reflective patches and a blinker light attachment cater to the safety aspect for those who ride past dusk. However, if you aren't a cyclist, this pack might offer more specificity than you need.
On the other hand, the Camelback Mountain Bike Line includes models M.U.L.E, Lobo, Lux, and Magic, offering varying capacities from 7 liters to 12 liters. The Crux reservoir system delivers 20% more water with each sip, which is conserved within a self-contained insulated compartment, ensuring hydration is both efficient and refreshing. Quick link and magnetic tube systems streamline the hydration process even further, while the Air Director back panel maximizes ventilation, helping to keep you cool on the most arduous climbs. The added benefit of Camelback's Got Your Bak Lifetime Guarantee provides long-term peace of mind. The only drawback noted is that out of the selection, only two models cater specifically to women, which might limit choices for female riders.
Both the Osprey Raptor/Raven Series and Camelback Mountain Bike Line emphasize stability, ventilation, and hydration efficiency, presenting themselves as strong candidates for cyclists seeking a pack that's as robust and adventurous as their riding escapades. Understanding the terrain you'll tackle, the length of your rides, and the importance of gear organization will guide your choice between these two excellent cycle-friendly hydration systems.
Budget-Friendly Picks: Evadict Range and Unigear Hydration Backpack
Looking for quality hydration and storage solutions for your running adventures without breaking the bank? Two exceptional budget-friendly picks in this category are the Evadict Range from Decathlon and the Unigear Hydration Backpack. Let's dive into what each product offers, covering their pros and cons, to help you decide which might suit your needs best.
The Evadict Range is Decathlon's budget-friendly line that promises functionality without a hefty price tag. With features including front pockets, a large back pocket, and hidden zip pockets for safeguarding your essentials, these packs offer practical storage solutions. They also come with a whistle, a thoughtful addition for those concerned with safety on the trails. The main advantage of the Evadict Range is undoubtedly its affordability, making it an excellent entry point for runners new to carrying hydration packs. However, it's worth noting that the technology and materials may not be as advanced as some of the pricier options on the market, potentially impacting both durability and comfort.
In contrast, the Unigear Hydration Backpack seems to strike a balance between affordability and functionality. Available in four stylish colors, the backpack includes a 2-liter BPA-free bladder, ensuring you stay hydrated during your run. The adjustable chest and waist straps provide a snug and air-resistant fit, while the mesh-covered foam back panel promotes ventilation. This backpack is equipped with additional storage options, such as a 7.5 inch deep mesh pocket and outside loops, not to mention the safety-oriented reflective patches. The Unigear Hydration Backpack's con is that some users may find the 2-liter bladder insufficient for longer journeys and might have to refill more frequently.
Overall, both the Evadict Range and Unigear Hydration Backpack are tremendous economical choices that offer different benefits. The Evadict Range is great for those who prioritize cost over high-tech features, while the Unigear Hydration Backpack caters to runners looking for a comfortable and practical option. Regardless of your choice, both are designed to support your running endeavors without stretching your wallet.
Gender-Specific Design Choices: Osprey Katari/Kitsuma Series
When considering the right hydration and storage product for your running needs, it's vital to acknowledge the importance of gender-specific design options that can enhance comfort and fit. The Osprey Katari/Kitsuma Series serves as an excellent example of thoughtfully designed hydration packs tailored to the anatomical differences often found between men and women.
The Katari series, designed for men, and the Kitsuma series, for women, are remarkable for their custom approach to hydration on the go. With volumes ranging from 7 liters to a minimalist 1.5 liters, these packs offer a variety of options catered to the duration and intensity of your runs. Whether you're going on a quick ride or setting out for a longer trek, you can choose a size that best fits your hydration and storage needs.
A unique characteristic of the Katari/Kitsuma Series is their LT 1.5 liter or 2.5 liter hydration reservoir, which is sufficient for moderate lengths of running. The packs come with a magnetic sternum strap for securing the hydration valve, ensuring easy and convenient access to water. Furthermore, the series shines with the AirScape back panel which promotes optimal ventilation, keeping the wearer cool during exertive activities.
Additional features such as the external reservoir sleeve, blinker light attachment for safety in low-light conditions, and a zippered slash pocket for smaller items make these packs versatile. The inclusion of dual stretch mesh side pockets and a front compartment with organization slots showcases the practicality of the Osprey designs, coupled with a removable hip belt for when you require less support and want to reduce weight.
However, it should be noted that the smaller volume options could limit the amount of gear you can carry, making them less suitable for longer, more demanding excursions. Depending on the version—1.5 liters, 3 liters, or 7 liters—you may need to carefully consider what items are truly essential for your journey.
In conclusion, the Osprey Katari/Kitsuma Series stands out for addressing gender-specific ergonomic design needs and offering a range of sizes to suit different running conditions. From quick rides to comfortable carry options, they ensure stability and sufficient hydration for your excursions, albeit with some consideration needed for storage capacity.
With a range of options from sleek belts to robust hydration packs, the right choice for your running accessory should be informed by your specific needs, distance, and comfort preferences. Minimalists might veer towards options like the Flip Belt or Waste Pack, while endurance runners will appreciate the larger capacities of the Osprey Duro 15 or North Face 12L Hydration Pack. For those with a tight budget, the Evadict Range and Unigear models offer a balance of features and affordability. Remember, no one option fits all, so weigh the trade-offs and consider the scenarios where you'll be using these packs and belts the most. Happy running, and may you find the perfect companion to keep you hydrated and ready for miles to come!
v0.16.2-multistep+hybrid.gpt-4-1106-preview--zephyr-7b-beta